BOOK | WRITTEN BY JUDITH HUMPHREY
Impromptu: Leading in the Moment
Impromptu shows leaders how to think on their feet and respond eloquently in every situation. Never have there been so many opportunities to inspire and influence in everyday situations -- elevator chats, corridor conversations, networking gatherings, meetings, and ceremonial events. Indeed, today the most iconic leadership moments are spontaneous, spur-of-the-moment events that reveal the inner workings of the leader's mind.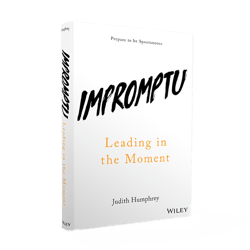 Get Your Copy At These Retailers
If You Like This, You Might Also Like...
If you're interested in more resources like the book, Impromptu: Leading in the Moment, we'd recommend exploring what's available on The Humphrey Group's resource library.