Communicating in a Hybrid World™
The new world of work requires new communication strategies.
Increases in technology and globalization combined with shifting standards around office attendance mean hybrid teams are here to stay. Never before has the ability to lead, connect, and inspire virtually as well as in-person, been so critical. Yet it takes a conscious effort to re-evaluate your communication approach and create a plan for building and connecting with hybrid teams.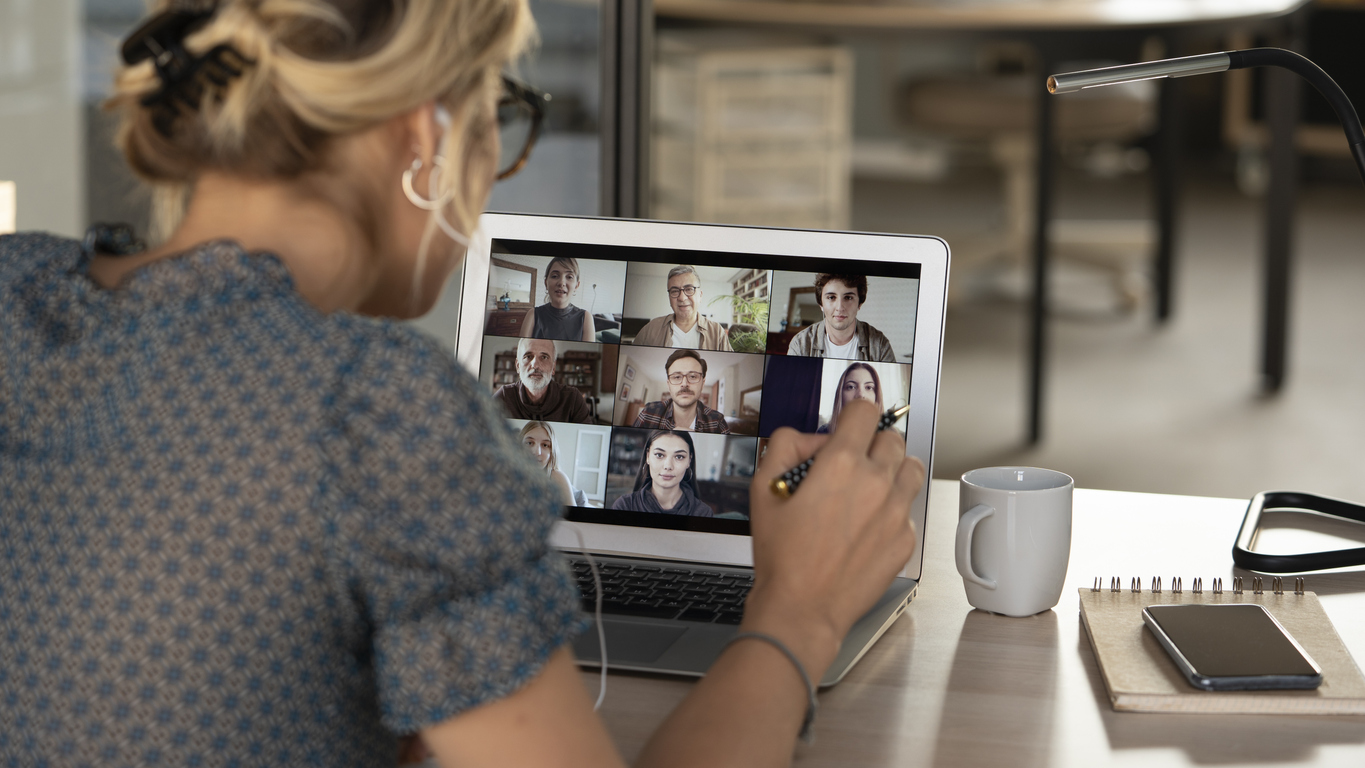 Ideal Audience
Leaders and members of hybrid work teams.
Delivery Method
Virtual.
Available In: English, French, and Spanish.
Timing
3, 1.5-hour live online sessions over three weeks + 3 self-directed learning modules + 30 minutes of 1:1 coaching.
What Participants Learn in our Communicating in a Hybrid World™ Program:
Communicating in a Hybrid World™ is a 3-week, digital learning experience that teaches hybrid team members how to solve the challenges of hybrid work. Participants learn how to build inclusion by shifting their relationship-building approach; maximize engagement by selecting the right medium for each communication; and how to elevate their virtual presence on calls and video conferences. Through a blend of self-directed learning; peer discussion; and live-online facilitation, practice, and feedback; learners gain the concrete skills they need to communicate inspirationally in a hybrid world.
In this Signature Learning Experience, participants receive the knowledge and tools to:
Understand their own communication habits and the habits of others on their team.
Define personal preferences and boundaries and communicate them effectively to their team.
Intentionally develop their relationships with others, whether working together face-to-face or virtually.
Articulate and reinforce strong team behaviors and communication norms.
Choose the right channel for each communication based on the desired action and engagement.
Structure and lead inclusive hybrid meetings.
Develop their presence on calls and video conferences.
Is Communicating in a Hybrid World™ Training Right for You?
Communicating in a Hybrid World™ is appropriate for leaders at all levels who are struggling with one or more of the following challenges:
Creating a cohesive, inclusive team environment among all hybrid team members.
Reducing burnout caused by the constantly connected, always-on demands of hybrid work.
Developing a shared culture within hybrid teams.
Spark Your Learning With Tailored Program Add-Ons:
As part of our extensive suite of offerings, we have a number of additional Spark modules and supporting tools that complement Communicating in a Hybrid World™. If you are interested in strengthening a particular skill that is not covered in the core program, we make it easy to supplement your core program design. Don't see what you're looking for? Contact our Sales team to learn more about our full library of Spark add-on modules. Here are our top recommendations for Communicating in a Hybrid World™:
Storytelling For Leaders
Storytelling builds a level of rapport and connection that facts and data cannot. It's a skill that takes any communication to the next level—if you know how to use it.
Group Coaching
The facilitator conducts additional group coaching focused on team-specific challenges.
Connect With Us
Whether you're ready to invest in development for your leaders, or just want to learn more about who we are and how we can help, we're ready to answer your questions.
Your Challenges Are Solvable
It doesn't have to be complicated. Our solutions incorporate simple, easy-to-apply tools and methods that drive big impact.
We Look Forward to Chatting!
We can't wait to talk about how we can help you develop leaders who inspire.