We know that frequent, quality feedback is a key feature of organizations that outperform the competition. To innovate and grow, employees at all levels must cultivate a growth mindset. In practice, this means that we must all learn to love giving and receiving feedback.
Luckily, both giving and receiving feedback are learnable skills. This 5-week learning experience provides the tools and practice participants need to get comfortable building this skill. The learning experience consists of 4 Spark modules: Creating Feedback-friendly Environments, Receiving Feedback in the Right Way, Giving Constructive Feedback, and Active Listening. During the course of this learning experience, participants will have the opportunity to practice a model for giving and receiving feedback effectively, test these skills at work, and share their successes or challenges with their cohort. The learning experience is capped off with 30-minutes of 1-1 coaching for each learner to help them personalize and sustain their learning.
This learning experience is part of the connection stream of leadership communications. You can learn more about our development philosophy here.
Key Learning Outcomes
In this signature learning experience, your employees receive the knowledge and tools to:
Understand what constructive feedback is and isn't

Commit to actions they can take to create a feedback culture

Use a structured model to RECEIVE difficult feedback well

Use a structured model to GIVE feedback effectively

Adapt language and positioning for different audiences

Follow-up to increase accountability and application

Apply strategies for listening physically, mentally, and emotionally

Respond positively to difficult comments and questions in the moment

Use disarming techniques and empathy to create common ground
Learning Experience Details

Timing
4 x 1.5-hour sessions + 30 minutes of 1:1 coaching

Ideal Audience
Leaders or those moving into leadership

Delivery Options
In-person or virtual
Our team is here to help.

Just leave us a message and we'll be in touch.
The Learning Experience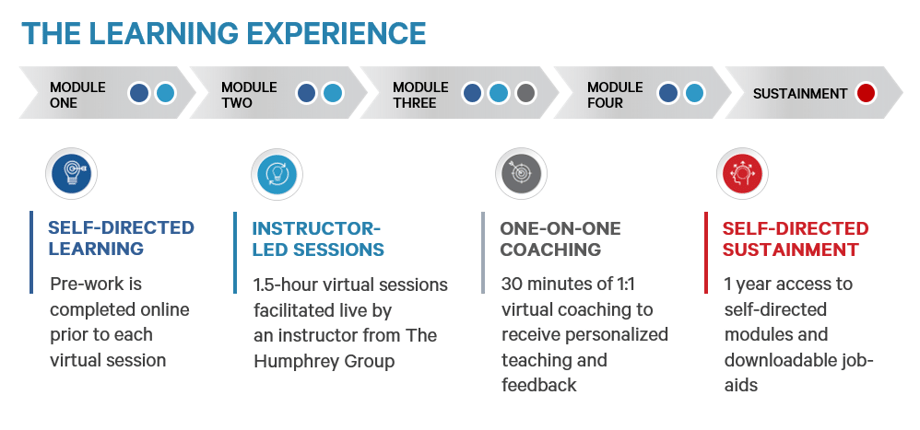 "We chose The Humphrey Group to be our global partner for leadership communication training. They have worked hard to understand how we want RBC leaders to communicate, and then they tailored programs to meet our specific needs for those skills."
Kelly Pereira - Director, Learning & Development
You May Also Consider
As part of our extensive suite of offerings, The Humphrey Group has a number of additional modules that complement Learning to Love Feedback. Here are a few of our top recommendations:
Relationship Building

™
Strong relationships are crucial to every leader's success, and they don't happen by accident. From high potentials seeking advancement to senior executives
Leadership Brand

™
Everyone has a brand, whether you know it or not. Your brand is nothing more and nothing less than your leadership identity. It's the first impression you make and the reputation
Leadership Presence
Inspiring communication is as much about non-verbal communication as it is about the words you choose. Whether you are face-to-face or virtual, your presence can make
Additional Modules
To ensure your learning experience of choice meets your goals and needs, The Humphrey Group team can customize it with your add-ons of choice
It All Starts with a Conversation
Want to learn more about Speaking as a Leader or The Humphrey Group? Let's talk.