Developing a leadership identity is an inside-out process. To be successful at generating followership, leaders must actively cultivate a brand that is authentic, audience-centered, and dynamic. They must balance their intention with their impact in a way that is both strategic and genuine. They must understand what triggers their best and worst behaviour. And they must be willing to adapt and shed old mindsets and behaviours that no longer serve their goals.
Authentic Leadership™ provides learners with a set of 3 steps for cultivating an inspiring and authentic leadership identity. First, they learn how to tap into their values to create a strong brand intention. Second, they explore their impact, and identify the factors that influence how they show up day-to-day. Finally, they test strategies for adapting their communication to better align with their aspirational leadership identity. Learners leave this experience with a strong sense of the leader they are today, the leader they aspire to be, and the steps they must take to get there.
This learning experience is part of the reflection stream of leadership communication. You can learn more about our development philosophy here.
Key Learning Outcomes
In this signature learning experience, your employees receive the knowledge and tools to:
Set their brand intention, define their intended impact, and adapt their behavior according to the situation

Explore their values, where they are living them, and where they can improve

Identify the triggers which undermine them and develop strategies for managing proactively and in the moment

Adapt their communication style to balance authenticity with audience-centeredness

Timing
4 x 1.5-hour sessions over 4 weeks virtually or 2 days in-person

Ideal Audience
New people leaders and those in public positions

Delivery Options
In-person, virtual, or open enrolment
Our team is here to help.

Just leave us a message and we'll be in touch.
The Learning Experience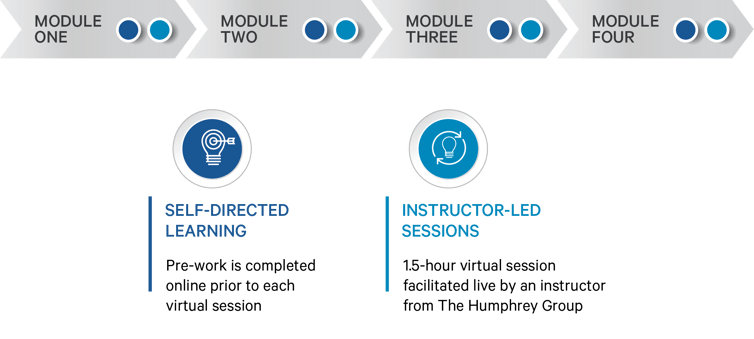 "We chose The Humphrey Group to be our global partner for leadership communication training. They have worked hard to understand how we want RBC leaders to communicate, and then they tailored programs to meet our specific needs for those skills."
Kelly Pereira - Director, Learning & Development
You May Also Consider
As part of our extensive suite of offerings, The Humphrey Group has a number of additional modules that complement Authentic Leadership. Here are a few of our top recommendations:
Storytelling for Leaders

™
Storytelling is one key example of values-based communication and a great strategy for sharing your brand authentically.
One-on-One Coaching
One-on-one coaching is an ideal add-on as it gives each participant time to dive deeper into the aspect of the program that was most compelling or challenging for them.
Leadership Presence

™
Teach your employees how to harness their unique charisma to connect with any audience.
Additional Modules
To ensure your learning experience meets your goals, The Humphrey Group team can customize it with your add-ons of choice.
It All Starts with a Conversation
Want to learn more about Authentic Leadership or The Humphrey Group? Let's talk.