Enabling Leaders™
Build a network of support when you engage in leadership communication skills development for leaders with disabilities in Enabling Leaders™
People with disabilities are entering the workforce in increasing numbers. When they are empowered to leverage their leadership voice, they can be a huge asset to your organization. Investing in learning and development for leaders with disabilities not only improves performance, but also helps to establish a thriving community of support and increases engagement.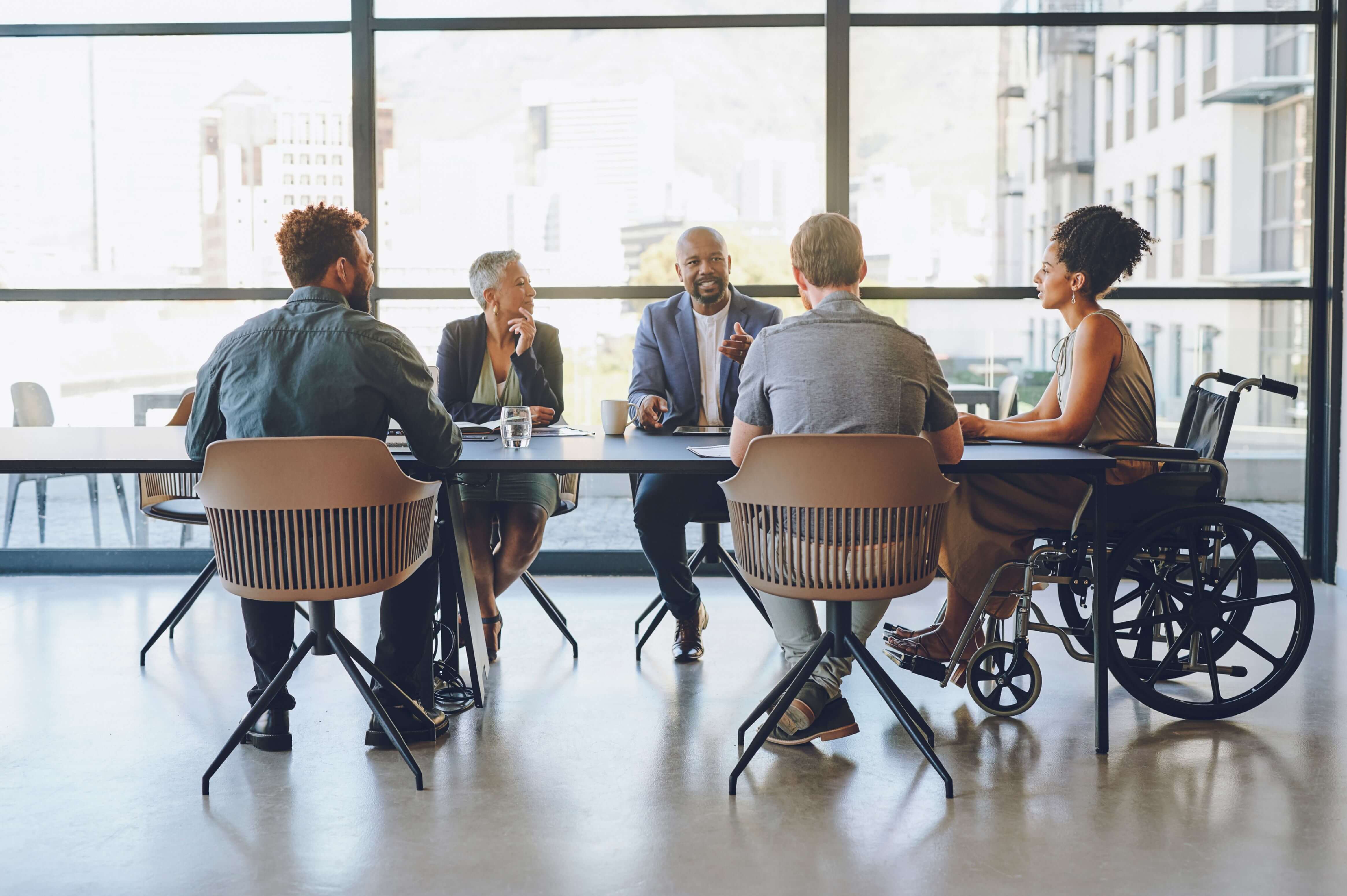 Ideal Audience
New and aspiring leaders with disabilities. Appropriate for Employee Resource Groups (ERGs).
Delivery Method
In-Person or virtual. Hybrid learning options are also available.
Available In: English, French, and Spanish
Timing
In-Person: 2 days, or;
Virtual: 5, 1.5-hour live online sessions over four weeks + pre-program, self-paced learning modules + 30-minutes of 1:1 virtual coaching.
Program Overview:
Enabling Leaders™ is a purpose-built space for employees with disabilities to share their unique challenges and learn from one another's experiences while building their leadership communication skills. Engaging in development with leaders who've had similar experiences and face common challenges creates a safe, trusting environment where true learning, growth, and support can occur.
This learning experience is designed by, led by, and offered exclusively by The Humphrey Group's own roster of facilitators with disabilities. The sharing of experiences is central to the learning experience.
What Participants Learn in our Enabling Leaders™ Program:
We recognize that the specific communication challenges facing leaders with disabilities can vary by organization, so the first step in the development process is a partnership to determine exactly which skills we need to address in your program. We then develop a learning experience for your leaders with disabilities tailored to your needs. Though specific learning outcomes may vary, the overall goal is to empower members of your community of leaders with disabilities to overcome barriers, thrive, and show leadership in the workplace.
In this learning experience, you can achieve the following outcomes with one of our proven designs, or you can tailor the content and design to your specific needs. Participants in Enabling Leaders™ may receive the knowledge and tools to:
Approach communication as an act of leadership.
Cultivate a strong core of conviction to support their brand.
Design a leadership brand that aligns with their core convictions and values.
Build resilience in the face of challenges.
Project a powerful and authentic presence, both in-person and virtually.
Use storytelling to share their convictions authentically and persuasively.
Grow their accessibility network and strengthen existing networks within the organization.
Is Enabling Leaders™ Right for You?
Enabling Leaders™ is ideal for new or aspiring leaders with disabilities who are struggling with one or more of the following challenges:
Developing a powerful and authentic leadership presence.
Cultivating core values and sharing them with others.
Building a network of support with other leaders with disabilities.
Tailored Program Add-Ons:
The Enabling Leaders™ program design is tailored to your specific needs. Contact our Sales team to learn more about our full library of Spark add-on modules. A couple of exercises we highly recommend adding to a program for members of the leaders with disabilities community include:
Facilitated Panel to Kick-Off
The Humphrey Group facilitates a panel session with senior leaders and members of the leaders with disabilities community in your organization to kick off the learning experience.
Facilitated Networking Session to Close
The Humphrey Group facilitates a networking session between senior leaders and members of the leaders with disabilities community in your organization to close the learning experience.
Connect With Us
Whether you're ready to invest in development for your leaders, or just want to learn more about who we are and how we can help, we're ready to answer your questions.
Your Challenges Are Solvable
It doesn't have to be complicated. Our solutions incorporate simple, easy-to-apply tools and methods that drive big impact.
We Look Forward to Chatting!
We can't wait to talk about how we can help you develop leaders who inspire.
Related Content & Resources