Presenting as a Leader™
Powerful presentations motivate an audience to act. Learn how to inspire your audience to take action with presentation skills training.
Whether presenting to your team, senior leadership, or any internal or external audience, it's imperative that you craft your message in a way that will be heard. But that's easier said than done. Effective presentations require a successful blend of an audience-centered message, an engaging delivery, and powerful supporting visuals. There's a lot of room for error, which is why everyone can benefit from training to become a more effective presenter. Even the most nervous speakers can gain the confidence to become inspiring presenters with formal presentation skills training and practice.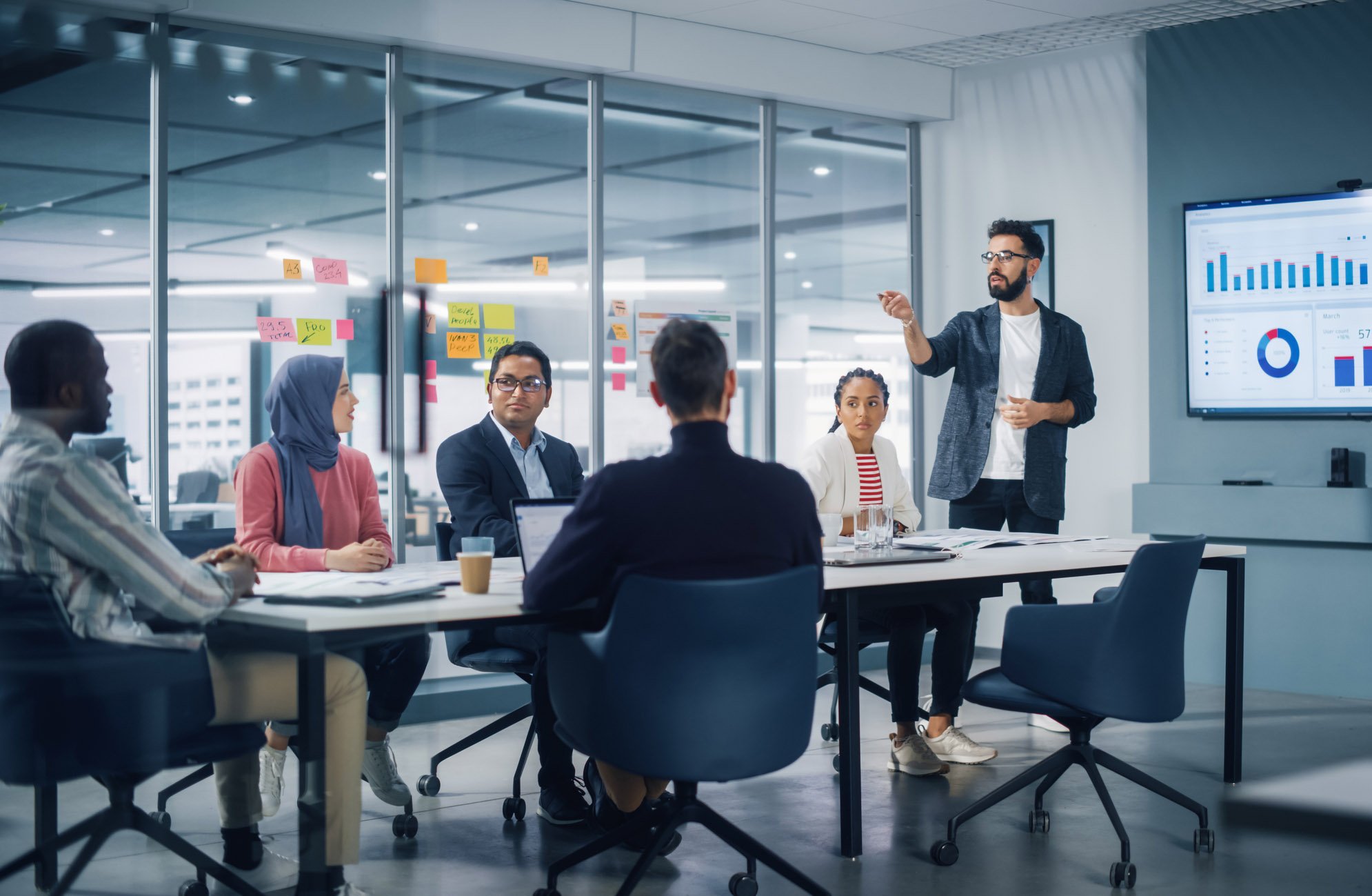 Ideal Audience
Anyone who often creates and/or delivers presentations.
Delivery Method
In-Person or virtual. Hybrid learning options are also available.
Available In: English, French, and Spanish.
Timing
In-Person: 2 days, or ;
Virtual: 4, 1.5-hour live online sessions over four weeks + pre-program, self-paced learning modules + 30-minutes of 1:1 virtual coaching.
What Participants Learn in our Presenting as a Leader™ Program:
In Presenting as a Leader™, participants learn what it takes to craft and deliver presentations that motivate, inspire, and engage their audience. By bringing their own past presentations into the classroom and rebuilding them, learners have a chance to see where they typically go wrong and how to make a greater impact with their approach, their visuals, their speaking notes, and their delivery style. Both the virtual and in-person learning experiences are led by an expert facilitator and provide extensive opportunities for peer discussion, feedback, and practice. Learners will leave with the skillset, mindset, and confidence to inspire others through presentations.
In this Signature Learning Experience, participants receive the knowledge and tools to:
Shift their approach to presentations from information to inspiration.
Use presentations to demonstrate their leadership in a given area.
Craft audience-centered messages.
Build slide decks that are easy to follow, simple to understand, and beautiful to view.
Use slides and visuals in delivery without being upstaged by them.
Engage any audience, whether virtual or in-person, through body language, pace, eye contact, and expression.
Answer questions with confidence and clarity.
Is Presenting as a Leader™ Right for You?
Presenting as a Leader™ is designed for anyone who is struggling with one or more of the following challenges:
Presenting with clarity and conviction in every presentation – both formal and informal.
Building formal presentation experience.
Preparing for large, formal public-speaking engagements.
Handling Q&A.
Delivery & Partnership Options
A variety of delivery and partnership options are available to meet your needs.
We Deliver
Our expert facilitators deliver this training directly to teams in your organization.
Our Partners Deliver
Connect with our open enrollment partners to find program options for individuals.
Spark Your Learning With Tailored Program Add-Ons:
As part of our extensive suite of offerings, we have a number of additional Spark modules that complement Presenting as a Leader™ If you are interested in strengthening a particular skill that is not covered in the core program, we make it easy to add additional modules to your core program design. Don't see what you're looking for? Contact our Sales team to learn more about our full library of Spark add-on modules. Here are our top recommendations for Presenting as a Leader™:
Coaching
30 minutes of 1:1 coaching is included in the core program design to provide direct presentation skills feedback for your learners. Additional 1:1 or group coaching is available if needed.
Storytelling For Leaders
Storytelling builds a level of rapport and connection that facts and data cannot. It's a skill that takes any communication to the next level—if you know how to use it.
Connect With Us
Whether you're ready to invest in development for your leaders, or just want to learn more about who we are and how we can help, we're ready to answer your questions.
Your Challenges Are Solvable
It doesn't have to be complicated. Our solutions incorporate simple, easy-to-apply tools and methods that drive big impact.
We Look Forward to Chatting!
We can't wait to talk about how we can help you develop leaders who inspire.
Related Content & Resources
Article
Presenting to Senior Executives: Why the Rules are Different
Have you've ever wondered if senior executives have different expectations for those who present to them? Our CEO, Bart Egnal, who's been coaching senior executives for more than 20 years shares the 3 rules you want to know to ace your next presentation.