LGBTQ2+ employees continue to face unique challenges in the workplace. The fight for equal human rights is ongoing, and internalized biphobia, homophobia and transphobia are still barriers that limit thriving and full belonging. Proud to Lead ®supports your organization's diversity and inclusion strategies by creating a purpose-built space for LGBTQ2+ employees to come together and discuss their specific challenges, while building leadership skills. Participants receive an intensive skill-building experience that shows them how to approach every communication as an act of leadership, and how to execute in a way that aligns with what they believe and who they are. The goal is to empower members of your LGBTQ2+ community to lead with pride at all levels of the organization.
The learning is led by The Humphrey Group's own roster of inspiring LGBTQ2+ leaders. The sharing of experiences is central to the learning experience.
Key Learning Outcomes
Proud to Lead empowers your LGBTQ2+ employees with the knowledge and tools to:
View communication through the lens of leadership

Articulate a vision, no matter what your level or role

Cultivate a strong core of conviction to support your vision

Design a leadership brand that aligns with your core convictions and values

Use storytelling to share your convictions authentically and persuasively

Project a powerful and authentic presence, both in-person and virtually

Grow their LGBTQ2+ network and strengthen existing networks within the organization
Learning Experience Details

Timing
3 x 1.5-hour sessions virtually or 2 days in-person

Ideal Audience
New and aspiring LGBTQ2+ leaders

Delivery Options
In-person and virtual
Our team is here to help.

Just leave us a message and we'll be in touch.
The Learning Experience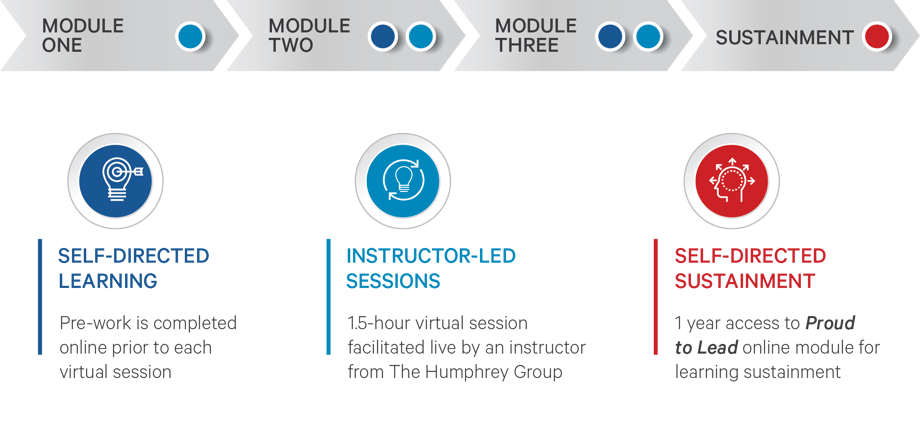 "We chose The Humphrey Group to be our global partner for leadership communication training. They have worked hard to understand how we want RBC leaders to communicate, and then they tailored programs to meet our specific needs for those skills."
Kelly Pereira - Director, Learning & Development
It All Starts with a Conversation
Want to learn more about Proud to Lead or The Humphrey Group? Let's talk.