Taking the Stage®
Stand up, stand out, and elevate your voice with Taking the Stage® - a powerful leadership communication skills program for women.
When women come together to learn from and support one another, they create an open, trusting environment where learning and growth can flourish. Today's women leaders face many complex, systemic challenges. Providing a purpose-built space to develop leadership communication skills while building a network of support enables your women leaders to thrive.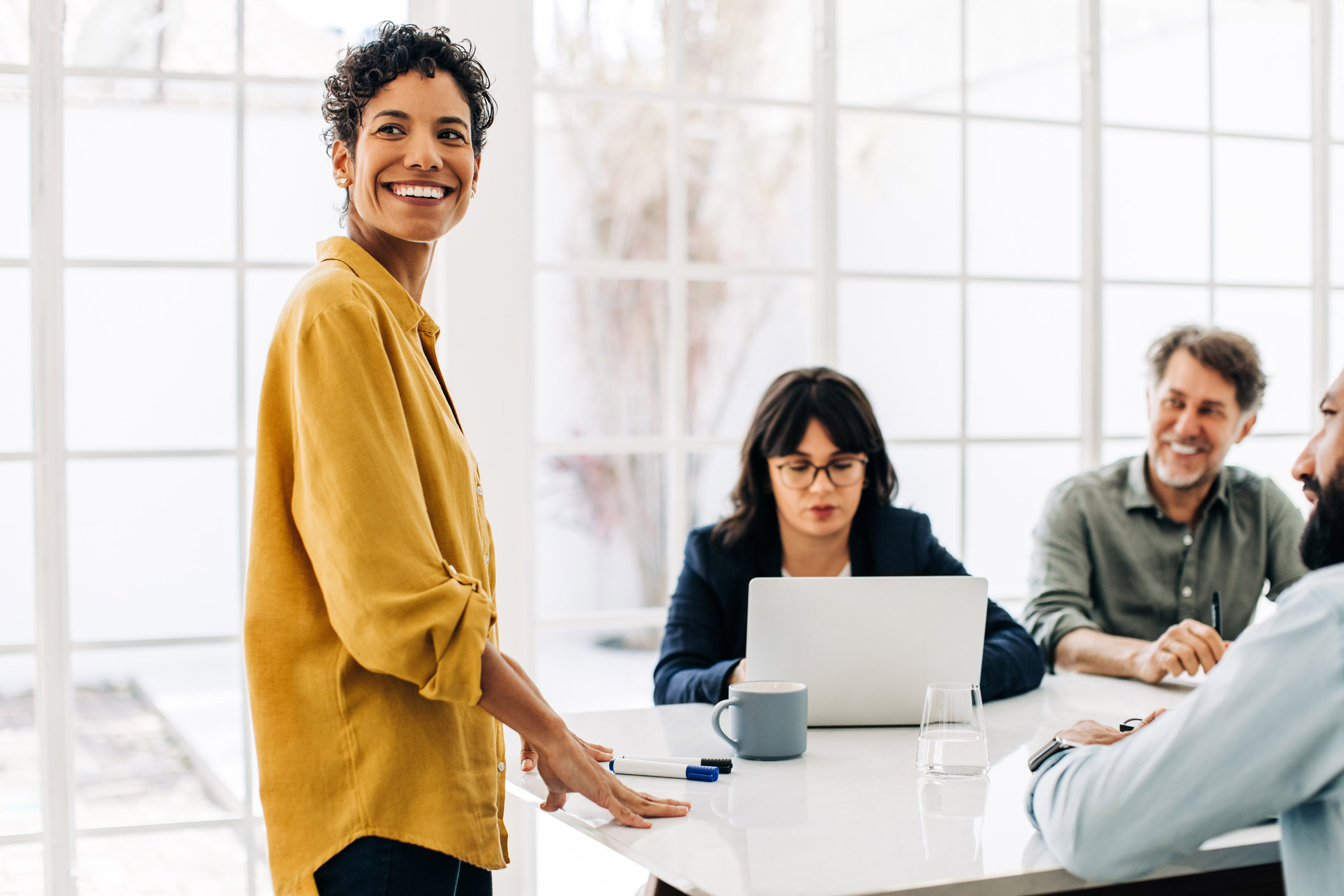 Ideal Audience
New and aspiring women leaders.
Delivery Method
In-Person or virtual. Hybrid learning options are also available.
Available In: English, French, and Spanish.
Timing
In-Person: 2 days, or;
Virtual: 4, 1.5-hour live online sessions over four weeks + pre-program, self-paced learning modules + 30-minutes of 1:1 virtual coaching.
What Participants Learn in our Taking the Stage® Program:
Taking the Stage® is a purpose-built space for women to come together and discuss the specific challenges they face while developing their leadership and communication skills. Participants will explore how gender norms have shaped and continue to shape ideas about leadership and communication styles. They'll think critically about the leadership identity they want to create. They'll develop a network of support with one another through shared experiences and challenges. And finally, they'll practice their new skills using a simple, structured method designed to unleash their authentic conviction and presence.
Taking the Stage® is designed and led by The Humphrey Group's roster of inspiring, expert women facilitators. The sharing of experiences and challenges is central to the learning experience. This program is an inclusive learning experience open to all women.
In this Signature Learning Experience, participants receive the knowledge and tools to:
Embrace and communicate a leadership identity.
Identify mindsets and habits that do not serve their goals.
Craft message-driven communication using a logical structure.
Use strong, assertive language.
Adopt a powerful vocal presence.
Achieve an authentic physical presence, both in-person and virtually.
Capitalize on conversations as leadership opportunities.
Effectively navigate conflict in conversations.
Develop their network of women leaders across the organization.
Is Taking the Stage® Right for You?
Taking the Stage® is ideal for new or aspiring women leaders who are struggling with one or more of the following challenges:
Developing a powerful and authentic leadership presence.
Cultivating core values and sharing them with others.
Building a network of support with other women leaders.
Delivery & Partnership Options
Multiple delivery and partnership options are available to meet your needs.
We Deliver
Our expert facilitators deliver this training directly to teams in your organization.
You Deliver
Licensing options are available. We will train your facilitators to deliver this training internally.
Our Partners Deliver
Connect with our open enrollment partners to find program options for individuals.
Spark Your Learning With Tailored Program Add-Ons:
As part of our extensive suite of offerings, we have a number of additional Spark modules that complement Taking the Stage®. If you are interested in strengthening a particular skill that is not covered in the core program, we make it easy to add additional modules to your core program design. Don't see what you're looking for? Contact our Sales team to learn more about our full library of Spark add-on modules. Here are our top recommendations for Taking the Stage®:
Relationship Building
Learn to build and strengthen relationships that are both strategic and authentic.
Leadership Brand
Reflect on who you are as a leader and develop an audience-centered leadership brand that's aligned with your values.
Connect With Us
Whether you're ready to invest in development for your leaders, or just want to learn more about who we are and how we can help, we're ready to answer your questions.
Your Challenges Are Solvable
It doesn't have to be complicated. Our solutions incorporate simple, easy-to-apply tools and methods that drive big impact.
We Look Forward to Chatting!
We can't wait to talk about how we can help you develop leaders who inspire.
Related Content & Resources