3 Ways you can Help BIPOC Leaders Succeed
In our last article, we discussed why BIPOC leadership development is important. BIPOC leadership development remains an urgent and persistent issue for many organizations as the numbers still show that we are far from seeing a fair representation of BIPOC leaders at the highest decision-making tables.
This is not because BIPOC employees lack the potential or competencies to become good leaders. Rather, the lack of representation today is due to the compounding effects of systemic discrimination, bias, and the lack of equitable policies and practices that have shaped and continue to shape organizational environments.
How can we better support BIPOC leaders to succeed and thrive as leaders? What can you do as an individual leader, whether you are a people manager, a colleague, or a team member?
Today, we will unpack the answers to these questions by introducing 3 ways that you can help BIPOC leaders succeed in your organization.


1. Create safe spaces, equitable resources, and fair opportunities.
It's impossible to know how your BIPOC employees are actually feeling or what they are experiencing without safe spaces for discussion within the organization.
A "safe space" is a supportive and non-threatening environment "where all participants can feel comfortable to express themselves and share experiences without fear of discrimination or reprisal."
Studies show how marginalized individuals can experience emotional and psychological barriers such as belonging uncertainty, stereotype threats, and the pressure to engage in code-switching in group and organizational settings (see last week's blog for more information). And these emotional and psychological burdens can negatively impact BIPOC employees' motivation, sense of belonging, performance, and mental health.
There are a number of ways that you can appropriately build safe spaces and resources to address these barriers. If you are an HR leader, for example, consider implementing anonymized employee experience surveys, focus groups with BIPOC employees, or learning spaces specifically designed for BIPOC learners.
If you are a team leader, people manager, or a peer, invite and engage your BIPOC employees in discussions about barriers to leadership opportunities and nurture your relationships with them to earn their trust and recognition of you as an ally. Ask how you can better support them in their development as thriving leaders.
Lastly, ensure that the policies and practices surrounding promotions, staffing, job assignment, and training and development are fair in your team and beyond. These are all components closely linked to leadership development within an organization. If it's not within your power or responsibility to alter policies and practices, then talk to someone in your network that can.
The Ontario Human Rights Commission provides a helpful guide to thinking about organizational policies, practices, and decision-making processes that are often fraught with forms of systemic discrimination (whether they are intentional or unintentional). Consider the barriers listed and adopt the best practices in the guide to ensure that your BIPOC leaders have a fair shot at pursuing opportunities within your organization.


2. Embrace BIPOC leaders' authentic leadership.
The Stanford Social Innovation Review article on "The Bias of 'Professionalism' Standards" explains how bias can show up in various assumptions we make about "professional" standards. This includes the lack of promotion of Asian individuals to management positions due to racist stereotypes of Asians as "quiet, meek, and antisocial" as well as unnecessarily complex vocabulary, syntax, and jargon accepted as codes of biased professionalism.
Other examples include employers' preferences for job candidates with more Anglo-Canadian and white-sounding names, Western standards of dress and hairstyle in the workplace, and biased "gut" decisions that employers make about "cultural fit" and who they would "go to lunch with."
Such biased standards make it difficult, if not impossible, for BIPOC leaders to show and embrace their authentic leadership.
According to The Bridgespan Group, aspects of a person's identity, including their race and ethnicity, can shape their values and belief systems, the lived experiences they have, and the communities they belong to or are claimed by.
As a result, these values, experiences, and communities can inform what motivates someone to pursue their work, the relationships and networks they engage in, the skillsets they grow, and the behaviours they adopt. Ultimately, these elements influence the decisions a person makes as a leader, the approaches they take, and the outcomes they achieve.
Looking at both sides of the equation, BIPOC leaders, if they are invited at all, may come to decision-making tables with diverse new approaches, strategies, and solutions. However, persisting bias and unquestioned norms of what is "professional" or a standard of "leadership" may deter BIPOC leaders from contributing their ideas.
This leads to a loss for both the BIPOC leaders and the organization. BIPOC leaders may lose out on critical opportunities to showcase their leadership and the organization may lose out on innovative ideas and leadership approaches, as well as invaluable talent.
In a worse situation, some BIPOC leaders may feel pressured to code-switch their leadership styles in order to arrive at or hold on to their leadership positions. This can further lead to the detriment of their leadership identity, performance abilities, and mental health creating a perpetual cycle of harm.
As a takeaway, we should actively address and combat biased standards of leadership and professionalism within our organizations. Additionally, as individual leaders, we must challenge our own assumptions and keep an open mind toward the new approaches and ideas that BIPOC leaders can bring to the table.
The goal here is to embrace the authentic leadership of BIPOC leaders and not only tolerate it. This means providing opportunities and spaces for BIPOC leaders to grow and test their ideas rather than merely listening to their suggestions.

3. Mentor and champion BIPOC leaders' success consistently.
Finally, mentorship is a powerful tool that can break down the barriers to fair representation at decision-making tables. This is is because mentorship allows BIPOC leaders to feel supported and belonging. It also provides them invaluable access to information that can contribute to finding the right opportunities and to receive feedback regarding areas of development. Ideally, through the process of mentorship, BIPOC leaders can also gain a mentor who can not only provide direction but also speak to their mentee's commitment to growth, their passion, and potential for success.
In a recent HBR article, David Nour introduces how the best mentorships can help both the mentors and mentees grow. Nour refers to these best practices as "transformational mentorship," where the relationship can offer something powerful to both the mentee and the mentor, while the only caveat is that transformational mentorship requires an equal amount of work from both parties.
While it may be tricky to find the right mentor and mentee relationship, the best mentorships form when both the mentor and mentee are driven by curiosity (as opposed to the binary teacher-student approach) and can feel comfortable.
If your intention is to support BIPOC leadership, you should approach mentorship through the lens of transformational mentorship - being ready and inviting to learn about the BIPOC leader's experiences, challenges, and achievements so that if the right opportunities arise, you can tailor your advice and champion their development.
These environments for mentorship will also allow the BIPOC leaders to engage in relationships authentically and find ways to succeed and thrive in their own ways, while supported by your guidance.
Lastly, we highlight the word "consistently" because as Nour points out, some mentorships and efforts for support fizzle and become less valuable in the long term. Additionally, if any form of mentorship or championing is only temporary, it can also leave the BIPOC employee feeling dismissed, confused, and undervalued.
Find ways to structure your mentorship in a way that best fits the needs of your mentee and aligns with your availability.
---
Thanks for reading! If you are interested in unique learning and development opportunities to support your BIPOC employees' leadership development, check out our Visible Leadership program on our website. This is a custom-designed program for BIPOC leaders, designed by BIPOC learning experience designers.
If you have any questions or would like to learn more about our programs, please reach out to us today!
Related Posts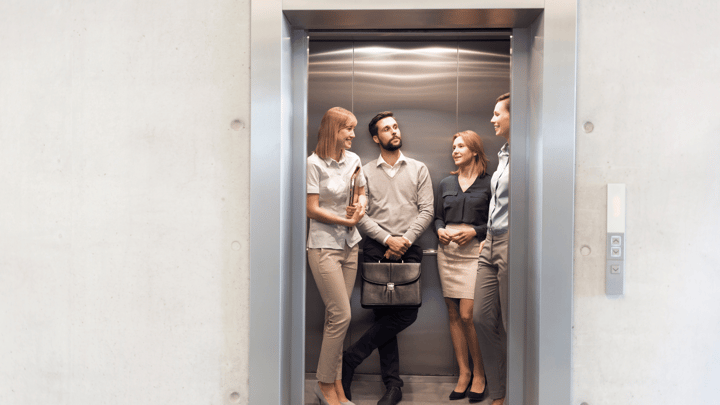 Learn how to handle a conversation when you are stuck in the elevator with your boss and your boss's boss
Read More