Increase Employee Engagement through Giving and Receiving Feedback
Introduction
Employee engagement matters today more than ever–for a variety of different reasons. On one hand, the wake of the coronavirus pandemic brought sudden widespread changes to workplace environments and triggered unprecedented numbers of people quitting or changing their jobs, known today as the "Great Resignation." In this midst, employee engagement in the US fell for the first time in a decade, falling from 36% of engaged employees in 2020 to 34% in 2021, according to Gallup.
On the other hand, increasing research shows that engaged employees perform better, experience less burnout, and stay longer within an organization. This contrasts sharply with the past as Ken Oehler, a global culture and engagement practice leader at Aon, reports, "Three or four decades ago, studies could not find a link between job satisfaction and performance, and the concept of engagement did not even exist."
So, what is employee engagement then and how can we increase it? According to many studies and experts, the practice of giving and receiving feedback plays an integral role in employee engagement. In this blog post, let's unpack this relationship between employee engagement and feedback and discuss several ways that feedback can boost employee engagement.
Here's a quick summary of how:
Make feedback normal and ongoing.
Demonstrate care and investment in the employee's development.
Clarify expectations, measures of success, and why the employee's work matters.
What is employee engagement?
Simply put, engaged employees are committed and connected to their organization. They are invested in their work and show high levels of involvement and enthusiasm for their workplace.
Contrary to popular beliefs and many visual depictions that show employee engagement as smiling and ecstatic employees, employee engagement is much more than temporary feelings of excitement. It may not always be visible, and it can be difficult to measure.
This is because many experts define employee engagement through behaviours rather than feelings. Some common behaviours of engaged employees include showing optimism, being team and solution-oriented, exhibiting a passion for learning, and going above and beyond one's call of duty.
According to Gallup, who surveyed over 2.7 million workers across 100,000+ teams, there are 12 employee needs that managers should focus on when driving and measuring employee engagement. These needs include:
knowing what is expected of me at work,
the opportunity to do what I do best every day,
a supervisor, or someone at work, who seems to care about me as a person and/or encourages my development,
opportunities to learn and grow within the last year, and
feedback discussions in the last six months about my progress at work.
Based on these needs, Gallup's 5 key drivers of employee engagement consist of: purpose, development, a caring manager, ongoing conversations, and a focus on strengths.
Why does feedback matter?
Many of the important needs and drivers of employee engagement cannot be accessed without the practice of effective and consistent feedback.
In the workplace, feedback can be broadly defined as a dialogue or sharing of information and advice that provides direction and encouragement to improve performance. This can include many different types of conversations and information gathered from peer feedback to feedback given by employees, managers/supervisors, as well as clients or customers.
The practice of exchanging feedback can have an immense impact on employee engagement and workplace culture more broadly. According to a study by Zippia:
69% of employees say they would work harder if they felt their efforts were being recognized through feedback,
49% of highly engaged employees receive feedback at least once a week, and
98% of employees disengage from their work when they receive little or no feedback.
Additionally, healthy and consistent feedback creates the avenues through which employees can gain the clarity regarding their purpose, development, and strengths that they need to feel more engaged at work.
How can we increase employee engagement through feedback?
1. Make feedback normal and ongoing.
One of the critical drivers of employee engagement is ongoing conversations. Moreover, in Gallup's research, the 12 employee needs for engagement commonly focus on consistency whether this is regarding one's purpose, opportunities for growth and advancement, or progress at work.
This focus on consistency further relates to the need to establish trust in order for teams and employees to collaborate and communicate effectively (see Harvard Business Blog on Trust & Leadership). Given that performance-related feedback may sometimes be constructive and multi-faceted, feedback conversations require a high degree of trust and transparency. And such qualities are difficult to build overnight.
Make giving and receiving feedback a habit by instituting such practices as a critical part of your organizational culture. This should include both positive and constructive feedback as well as top-down, bottom-up, and peer feedback. For more advice on how to create a feedback-friendly culture in the workplace, take a look at our blog article on this very topic.
2. Demonstrate care and investment in the employee's development.
One of the biggest discoveries in the Gallup study was that "the manager or team leader alone accounts for 70% of the variance in team engagement." Employees increasingly want purpose and meaning from their work as well as relationships with a manager who can effectively coach them to reach their development goals.
Leaders and people managers should keep this in mind when providing feedback to their employees. While it may be assumed that your intention is to improve the employee's performance and support their development, if this is not clearly communicated during the feedback process, the care and relationship that employees seek from their manager may be lost.
Take the time and effort to show your employees that you are invested in their development. This can be achieved through the consistency of your communication, clearly articulating your intentions, and providing advice that's actionable and that generates concrete outcomes for the employee.
3. Clarify expectations, measures of success, and why the employee's work matters.
Last but not least, ensure that your employees have a clear understanding of how the organization's vision, values, and goals align with their current work and future aspirations. As purpose is becoming a powerful driver of employee engagement, ongoing feedback must include why and how the employee's day to day work matters to the team and the organization at large.
In order for the employee to have a clear sense of progress, concrete measures of success and continuous opportunities for growth also matter. In your feedback, be specific about how your employees can further achieve success in their role or better align their activities and outcomes with the expectations of the organization.
If you are looking for a place to start your feedback practice, take a look at our blog post on how to give constructive feedback for 5 easy steps. Additionally, check out our comprehensive learning experience on giving, receiving, and creating a feedback-friendly culture, Inspiring Feedback, on our website.
---

The Humphrey Group provides a variety of learning experiences that can contribute to employee development and engagement such as Leadership Communication and Diversity, Equity, and Inclusion Communication Training. Explore our website for more learning solutions that fit your organization's needs.
Related Posts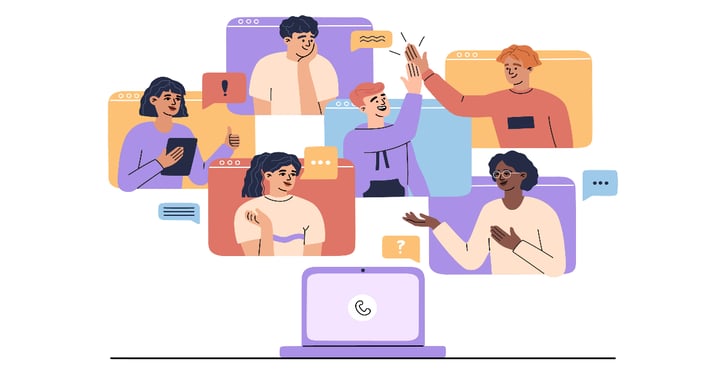 strategies to improve accessibility at work. In this two part series, we will explore how to make communication more accessible in a hybrid work environment and how to create inclusive learning experiences for everyone.
Read More