Why Capable Women are Leaving Leadership Positions and What to Do about It (Part II)
In Part I, we discussed why women leaders are switching jobs at unprecedented rates today. Women are more educated and ambitious, as the number of college-educated women in the workforce have long begun to outnumber men. Women are also equally interested in opportunities to advance their careers as their male counterparts, according to the results of the recent Women in the Workplace (2022) study.
However, women leaders still face disproportionate barriers to receiving equal pay and treatment at work. This paired with the fact that women are demanding more from their workplaces such as clear commitments to DEI and prioritizing employee well-being is fuelling more women leaders than ever before to walk away from their companies.
McKinsey & Company and LeanIn.Org refer to this phenomenon as the "Great Breakup" in their Women in the Workplace (WW) report. While this "Great Breakup" may be a gendered term, it evokes a powerful image of women leaving their unhappy, neglectful, and even abusive relationships with their organizations in masses.
If you are an organization executive at this time, your top of mind concern should therefore be how to take action, so that you won't just lose your current women leaders but the next generation of women leaders too. As the WW report points out, young women are even more ambitious and place a greater emphasis on working in an equitable, supportive, and inclusive environment (p.5).
So, in this Second Part, let's turn to the how - if you are a well-intentioned organizational leader that wants your women leaders to stay and thrive within your company, what can you do?
Here are 3 strategies:
1. Break down the bias.
2. Make pay and promotion opportunities transparent and fair.
3. Prioritize a culture of inclusion, flexibility, and employee well-being.


We will go through each step further in this blog post.
---
1. Break down the bias.
While women aspire to senior-level positions in their careers, they continuously encounter bias in the form of microaggressions and discrimination that undermine their authority and make it harder for them to advance.
According to the Women A Work 2022 study by Deloitte surveying 5,000 women across 10 countries, exactly half of the women (50%) reported experiencing microaggressions at work in the past year such as being interrupted or talked over, being patronized, and so on.
The first step in taking action is then to actively challenge and dismantle the organizational culture that normalizes such bias-driven behaviours.
As a starting point, carefully observe the normalized unconscious biases at play in your organization. Provide safe opportunities for women to share their experiences of discrimination without fear of reprisals or backlash. As a potential next step, educate your employees about their unconscious biases by providing appropriate training and implementing a clear policy on discrimination.
The Deloitte 2022 study shows that 93% of surveyed women believe that reporting non-inclusive behaviours such as microaggressions and harassment will negatively affect their careers, while they also feel that their employers won't take action even if they report these behaviours.
It would be impossible to stop women leaders from leaving your organization if it is unclear why they are leaving in the first place. Break down what the relevant biases are, how they are affecting the women at work, and what you need to educate and instill in your organization's culture to make it a safer and fairer workplace for women.
2. Make pay and promotion opportunities transparent and equitable.
In the WW 2022 report, one of the surveyed women, a senior manager of South Asian descent, shared as follows: "I've asked many times what I can do to get promoted, and I don't get a good answer. I'm thinking of leaving. And it will be my company's loss since they didn't offer me the opportunity to advance. I hit a ceiling that didn't need to be there."
This quote represents similar experiences of many women who are statistically more likely than men to have their judgment and qualifications questioned, be overworked and under-recognized, and be denied or passed over for a raise or promotion due to their personal characteristics such as their gender or being a parent.
Therefore, establish a clear system of promotions, raises, and opportunities for advancement - not only based on a transparent criteria of performance measurements but also considering the unacknowledged work that women leaders may do to support employee well-being and DEI initiatives at work.
In levelling the playing field for career advancement, McKinsey and LeanIn further recommend paying attention to how remote and hybrid work arrangements may affect opportunities for employee development (p.33). For example, people managers should ensure that access to training and mentorship for hybrid employees is equally provided to support their career development and to minimize flexibility stigma. Organizations should also ensure that employees that take advantage of the remote and hybrid work options are not disadvantaged as a result in their performance reviews.
This is especially due to the fact that according to the WW 2022 study, women (10%) are far less likely than men (18%) to want to work mostly on site, while an overwhelming majority of women prefer remote and hybrid work (86%).
There may be several reasons why women care deeply about the flexibility of work arrangements, such as the unfair burden of housework and caregiving responsibilities that fall on women. As a game-changing discovery, the WW 2022 study has also found that when "women work remotely at least some of the time, they experience fewer microaggressions and higher levels of psychological safety" (p.26), and this is especially true for women of colour, LGBTQ+ women, and women with disabilities.
Given this data, organizations should not only establish clear guidelines for flexible work but ensure that the access to opportunities for career development, advancement, and higher pay are not dependent on their choice for flexible work. Organizations should further track the outcomes to ensure that their guidelines are working.
Prioritize a culture of inclusion and employee well-being.
Finally, as women put in more work to support employee well-being and to foster DEI at work compared to men at their level, they are also more likely than men to leave their jobs to work for a company that is more invested in these priorities (see Part I).
If organizations don't want to risk losing their women leaders and their valuable contributions to inclusion and employee well-being, they must act now to make their commitments clearer.
Examine what factors are missing for employee well-being and greater inclusion at work. Are you providing sufficient and transparent options and guidelines for remote and hybrid work? Do employees feel connected, supported, and engaged no matter who they are and what their work arrangements are?
Invest in your people leaders and resources for employee connectedness. Do people managers have the tools and training they need to effectively support employee well-being in their teams? Do you have the technologies available and enabled to foster camaraderie and connection for both employees working on site and remotely?
For this third step, a mindset shift toward treating flexibility, employee well-being, and DEI as fundamental parts of your organization's business objectives and operations is required. This culture shift is no longer a nice-to-have but a must-have if companies want to retain their women leaders who have already been doing the work to make their workplaces more safe, supportive, and inclusive for all.


---

If you haven't yet, check out the resources below for more information and recent data:
If you require training solutions, consider THG's comprehensive learning experience on Inclusive Leadership for your people leaders. Our Taking the Stage program is also a renowned learning experience that offers a safe and purpose-built space for women leaders to practice their leadership communication skills while building a network of support. Explore our website for more information.
Related Posts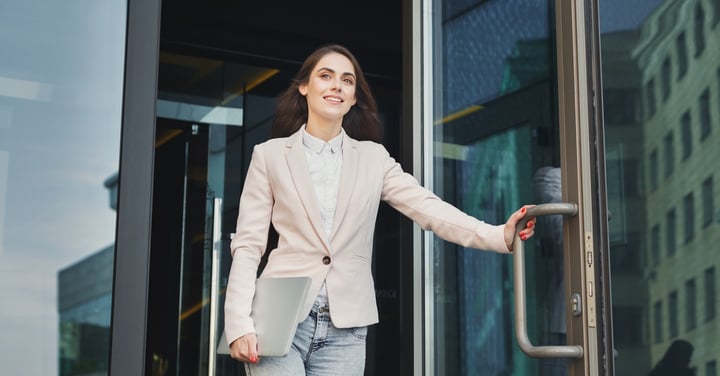 Women leaders are switching jobs at the highest rate we have seen until now – and at a higher rate than men in leadership. Why is this "Great Breakup" taking place and what can companies do to attract and retain their women leaders?
Read More