3 Ways to Embrace Speaking as a Leader: Practical Tips from a Leadership Communication Coach
The term "leadership communication" draws millions of search results on Google–approximately 694 million, to be exact. Many of these results highlight that "Effective Leadership is all about Communicating Effectively" or emphasize "How Great Leaders Communicate" (presumably differently from others).
As millions of such entries online promise to share tips and best practices on leadership communication, what does it mean to speak as a leader anyway? And why is it such a sought-after skill today?
Simply put, speaking as a leader (or leadership communication) means communicating with the goal of inspiring or influencing our audience to take action. It's easy to confuse the term "leader" here with a person in an executive or senior management position, but as Bart Engal, the CEO of The Humphrey Group (THG), explains in his blog post, today, "everyone needs to be able to communicate as a leader (even if it's not in their job description)."
Another common myth about leadership communication is that you need to be born with the skills and innate abilities to speak with influence. This is, again, false. Some people may be more naturally inclined to speak in public or have an easier way with words than others, but speaking with influence is also a skill that you can acquire through practice.
Additionally, we now live in an era with more diverse mediums of communication than ever before. (Think water-cooler conversations to Slack channels!) We also live in a world where our audiences appreciate and recognize authenticity as a facet of leadership. (Try inputting the words "authentic leadership" in a Google search.) What these trends tell us is that speaking as a leader is also more accessible now than ever–we have more ways to connect with and inspire our audiences through nontraditional means and spaces.
So, what are some ways you can embrace speaking as a leader today (no matter your job description)? Here are 3 habits you can adopt.
Approach every communication opportunity with a clear message.

Do your "homework": know your audience.

Align your communication with your authentic leadership brand.
Let's break down each of these habits.


Habit 1: Approach every communication opportunity with a clear message.
Before you jump into any communication opportunity, whether that's a weekly Zoom meeting with your team or a follow-up conversation with a client, think carefully about the purpose of your communication. What actions are you trying to inspire? Are you proposing a solution or making a value proposition?
Organizing your thoughts around a central message helps you to stay on track during the conversation. It also helps you to avoid overwhelming your audience with unnecessary information and to guide the conversation back to the point, if it veers off course. In addition, having a clear message enables you to strategize on the best ways to build connection with your audience so that they are prepared to hear your message and to highlight "what's in it for them."


Habit 2: Do your "homework": know your audience.
In banking, they say, "Know Your Client." In communication, the same logic of due diligence applies: to know your audience. Assess your audience prior to the communication opportunity to recognize their interests, attitudes, and levels of understanding regarding the subject matter of your conversation.
This step can come before or after arriving at your central message. Depending on the purpose of your communication, you can reflect on your goals and the action you need to drive from your audience first before evaluating how your message would be perceived by your audience. Sometimes, it's easier to assess your audience first before determining your message, particularly if you don't know your audience very well or if the goal of your communication depends heavily on your audience's viewpoints.
No matter which order you decide to take, be prepared to tailor the language of your communication to your audience's needs. If your audience is new to the subject matter of discussion, avoid using jargon or unnecessary acronyms. If your audience has a negative attitude or misgivings about the topic of discussion, you may need some time to build rapport with them before railroading them with your views. You may also need to emphasize the benefit of changing their views and taking action in more clear and easily understandable terms.
Today's world of technology makes this task of knowing your audience much easier than before. Think of the online resources at your fingertips from websites and Google searches to LinkedIn, other social media, and records of your previous email exchanges and other documented communication. You can also view your audience's networks and find mutual contacts that can provide you with more information or help you build connections.

Habit 3: Align your communication with your authentic leadership brand.
What are your values as a leader? If you are a team, project, or people leader, is there a unique vision you have for your team or project? How does your message align with your values and vision?
We define "leadership brand" as your reputation that precedes you. Your brand isn't all about appearances or how others perceive you, it also has to align with your authenticity and values. When your communication corresponds with your authentic leadership brand, it builds trust, confidence, and clarity for your audience.
Here, consistency is key. This is why developing effective communication habits such as doing your due diligence and reflecting on your leadership brand is critical to speak with influence every time.
By reflecting on the core facets of your brand such as the quality of work that you stand for, the values that shape your leadership, and your vision, you can ensure that you are delivering a coherent and consistent message at each interaction. You can also make the connection between your brand and message clear to your audience or address any discrepancies in their perception and the brand that you want to be recognized by.
Check out this HBR article, "Define Your Personal Leadership Brand in Five Steps," for more information on arriving at your leadership brand.


---

Hungry for more tips? The Humphrey Group has lots of resources on our website. Start by exploring our signature learning experience on Speaking as a Leader.
Related Posts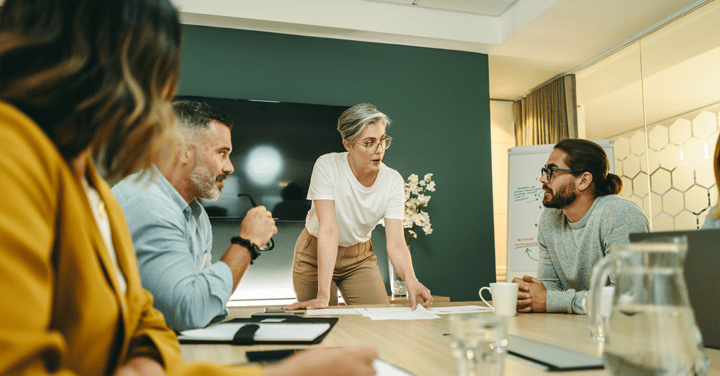 Master leadership presence with key tips on body language, eye contact, pace, and vocal expression. Elevate your leadership skills today!
Read More