Building Organizational Culture through Recruitment Strategies
Introduction
Organizational culture is a hot topic. In an era of remote-work, an exhausted workforce, and a competitive talent landscape, organizational culture plays a crucial role in engaging and maintaining your workforce.
Organizational culture and recruitment strategies can be seen as a chicken-and-egg scenario. Which comes first? The truth is, they are interconnected and create a reinforcing cycle. Having a great organizational culture can attract exceptional talent, while the talent you hire further enhances your culture, making it even more appealing to prospective candidates. Your recruitment strategy can play a key role in showcasing your company's culture to attracting the right people to fortify it.
Wondering how you can modify your recruitment strategy to show off your culture? I've been refining The Humphrey Group's hiring practices for eight years, and I'll share my tips for a successful recruitment cycle. I'll start with the job posting and then discuss how you can woo your qualified candidates in the interviews.
Crafting Inspirational Job Postings
Highlight the impact of the work
We've all read them – the job postings that read like a list of chores. Personally, I don't find a list of duties and responsibilities to be how I spend 40 hours a week. I want my work to mean something, and I bet the candidates you're trying to recruit do too.
Use your job posting to communicate the impact a new hire can have in their role. Emphasizing the influence they can have in the role will help potential hires envision their contributions within your organization, and get excited to work with you.
For example, instead of listing key responsibilities for a sales representative like this:
Identifying and researching potential customers or clients who may be interested in your product or service.
Establishing and nurturing relationships with prospects and existing customers/
Highlight the purpose of their responsibilities like this:
Qualifying leads to drive business

You will use your experience in prospecting and consultative sales to qualify leads generated from our marketing efforts. You will communicate our value proposition and create interest in our offerings.

Growing partnerships with clients

. You will develop your product knowledge to introduce clients to the solutions that meet their needs. You will build trust with your clients so they incorporate your services as part of their strategy.
Showcase your culture
Your job posting should serve as a window into your company's culture. What sets your organization apart from others? Be sure to highlight the unique perks and benefits that go beyond the standard time off and health insurance. Let candidates know about your flexible work arrangements, team-building activities, or wellness programs. Providing this information upfront gives candidates an early glimpse into the culture your organization offers.
Loosen your experience requirements
Does your ideal candidate actually need to have eight years in the role? Or is six sufficient? By including strict requirements, you are shrinking your candidate pool. Thinking critically about the qualifications that are truly necessary will broaden your candidate pool and attract individuals who can contribute to your culture in unique ways. Remember you want to find candidates who will add to your culture, not just fit in.
Show them the money!
Nobody wants to waste their time applying for a job that will pay them less than they are currently making. Including a salary range in your job postings demonstrates that your organization values equity and is transparent about compensation practices. This will build trust with potential hires and set the tone for fairness in your culture.
The Interview Process
Set expectations
There are many stories circulating on LinkedIn about candidates being ghosted by employers. Be upfront about the interview process. Inform candidates about the number of interviews, who they will meet, how long the process will take, and when they can expect to hear back from you. This demonstrates thoughtfulness, consideration, and intentionality on your part, reinforcing your organization's values.
Offer accommodations
You should already include an equal opportunity statement in your job posting, and now it's time to walk the talk. As you schedule your interviews, ask the candidates if they would benefit from any accommodations. This act communicates your culture of inclusion.
Ask questions consistently
Consistency in your interview questions is essential to avoiding bias. Ensure that all candidates are asked the same set of questions so you can evaluate them fairly. I like to use a rubric during my conversations so all interviewers are using the same tool to measure the candidates. However, don't make the interview a one-sided affair. Encourage candidates to ask questions, share their thoughts, and express their expectations.
Summary
Demonstrating your organizational culture through the recruitment process will attract candidates who share these values. When these individuals join your company, they'll expect the organization to live up to the promises made during recruitment. This alignment ensures that the culture you were seeking to create is not only maintained but also strengthened over time.
Your recruitment strategy can be a powerful tool for building and reinforcing your organizational culture. You only have one chance to make a first impression, so showcase your culture in the job posting, and reinforce it in the interview process. The effort you put into your recruitment practices will propel your organizational culture to new heights.
Related Posts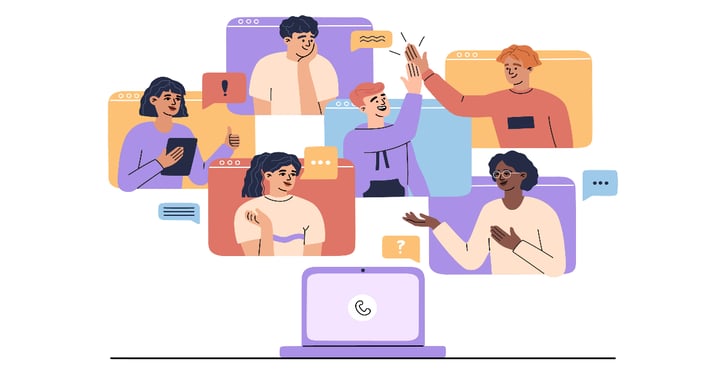 strategies to improve accessibility at work. In this two part series, we will explore how to make communication more accessible in a hybrid work environment and how to create inclusive learning experiences for everyone.
Read More