Leadership Development and DEI Training: What is the Relationship?
Leadership training (LT) and Diversity and inclusion training (DIT) are two of the most popular offerings in the multi-billion dollar industry of corporate training. Leading organizations recognize the importance of both leadership and inclusion as vital ingredients for success in today's competitive and globalized economy. But what is the best way to deliver training in these areas? Should leadership and inclusion be separate components of employee learning and development (L&D)?
In many organizations, this is the status quo. Inclusion strategy and training often find their home in HR, rather than L&D. The result is that inclusion becomes siloed away from leadership development and learning more broadly, even though there are many overlapping capabilities and skills. Similarly, diversity and inclusion training is often coupled with compliance, onboarding, or other forms of company-wide L&D and the opportunity to position inclusion as a key leadership capability is lost. To break down the silos and ensure both inclusion and leadership development training have maximum impact, we have to ask:
What is the ideal relationship between LT and DIT, and how should this relationship influence approaches to employee training?
Arriving at the right answer to this question can offer us new possibilities for building more comprehensive and impactful training solutions for both inclusion and leadership development.
At The Humphrey Group, we believe that inclusion training is and should be a core part of leadership development.
This blog explores several reasons why and proposes 3 strategies for bringing these training initiatives closer together to increase the impact of both.


---

1) Find the overlap and anchor your key initiatives there.
Leadership development and inclusion training share many common objectives. The two training programs largely respond to the growing demands by organizations to manage relationships and rapid change in ways that increase their competitive advantage in the market.
As a result, both LT and DIT share an investment in helping employees engage with diverse employees in ways that contribute to a positive and productive workplace culture.
For example, in leadership development, organizations frequently recognize leadership abilities as:
Many researchers also define leadership as involving a complex interaction between people and their social and organizational environments.
In other words, one's ability to influence and communicate with a rapidly diversifying workforce in today's VUCA (volatile, uncertain, complex, and ambiguous) environment is a much needed competency for leadership.
On the other hand, the basic goals of DIT include helping employees embrace all the unique aspects of a diverse workforce and work together harmoniously (ex. see Qualtrics' definition of DIT).
Because DIT has evolved from being called Diversity Training to DIT or DEI (Diversity, Equity, and Inclusion) more recently, there has been an increasing focus on "inclusion" as a core competency for learners (see McKinsey report: Diversity wins: How inclusion matters).
Today, DIT not only involves reducing prejudice and discrimination but facilitating positive interactions between groups of employees and growing the skills, knowledge, and motivation of people to interact with diverse others.
This emphasis on motivating and engaging all employees ultimately means that effective inclusion training creates an environment that's conducive to leadership success. On the other hand, successful leadership development would also bring about positive inclusion outcomes.
It's also important to note that studies have shown that inclusion training may be ineffective when trainers have little to no frame of reference to contextualize the training and the learners have little desire to transfer their learning back to the workplace.
Call to action: find the overlap in your organization and communicate it clearly to all stakeholders, including participants in your training programs, to increase buy-in for both initiatives.


2) Know your history so you can shape perceptions of your training initiatives.
Both LT and DIT became popular starting in the mid-to-late 1960s. But DIT took much longer to be accepted as a competency and driver of business success than leadership training. This historical difference has created biases against DIT in both stakeholders and learners.
According to Hieker and Pringle, the authors of The Future of Leadership Development (2021), LT became a training commodity in the 1960s with the rise in popularity of MBA programs and changing views on leadership. Prior to this, although leadership was still a sought-after quality in business, it was generally believed that only a select group of people are born with innate leadership abilities. Since then, leadership became increasingly recognized as a set of behaviours that can be learned and taught in a variety of ways.
On the other hand, the earliest forms of DIT began as parts of affirmative-action and anti-discrimination policies mandated by the federal government in reaction to the US Civil Rights movement (read more about the history here).
Many organizations in the 1960s and 1970s carried out DIT for the purpose of avoiding costly and embarrassing lawsuits and negative publicity by training their employees in anti-discriminatory behaviour.
Despite these different beginnings, many topics in LT and DIT have been intersecting in recent years as both training programs have evolved over time. These intersecting topics will be explored further in the next section.
In the meantime, it's important to note that albeit their differences, both programs have been essential in shaping the diverse and competitive workforce of today.
Call to Action: take the time to learn about the history of both training programs in your organization and in the corporate learning landscape in general. Decide if you need to reframe your stakeholders' and/or learners' perspectives or challenge beliefs about each type of training.


3) Explore the convergences in current trends.
Because leadership and inclusion began for different reasons and evolved in different ways, there are many commonalities that we often overlook. Today, these commonalities are becoming more and more apparent as leading companies integrate these two forms of training.
In LT, this has meant growing conversations about "responsible leadership" and "corporate social responsibility." For example, Ellyn Shook, the Chief Leadership and Human Resources Officer at Accenture, points out,
"Organizations have the opportunity and the obligation to drive growth in tandem with positive social and environmental outcomes. This starts with redefining what it means to lead responsibly, A new generation is leading the way, focused on driving value while honoring values."
While leadership leaned toward social responsibility, the calls for the "business case" for diversity grew in DIT arenas. A compelling example of this "business case" can be seen in McKinsey's 2015 report, "Diversity Matters." The business case for diversity suggests that the diversity of the workforce and leadership teams not only contributes to the "fairness" of an organization but to their financial outcomes and business results.
In both inclusion and leadership development programs, topics such as authenticity, emotional intelligence, cultural intelligence, and cross-cultural communication have become popular in recent years.
What do these trends tell us? In short, inclusion is now seen as a driver of leadership and business success, and effective leadership is a key driver of inclusion.
Call to action: if you are still curious about more convergences, explore Forbes recent article on "15 Topics That Add Value to (Basic) Employee Training Programs." Go through each topic on this list and consider whether each topic can fall neatly into one of LT or DIT. Think critically about why or why not and discuss your thoughts with your stakeholders.


---

Hungry for more information? We have great news!
We are currently working on a whitepaper on the relationship between LT and DIT and ways that this relationship can influence the design, positioning, and impact of your training programs.
If you're interested, subscribe to our newsletter here to be the first one to read it when it launches.
In the meantime, explore THG's unique combined approaches to LT and DIT through our popular learning experiences like Inclusive Leadership by visiting our website today.
Related Posts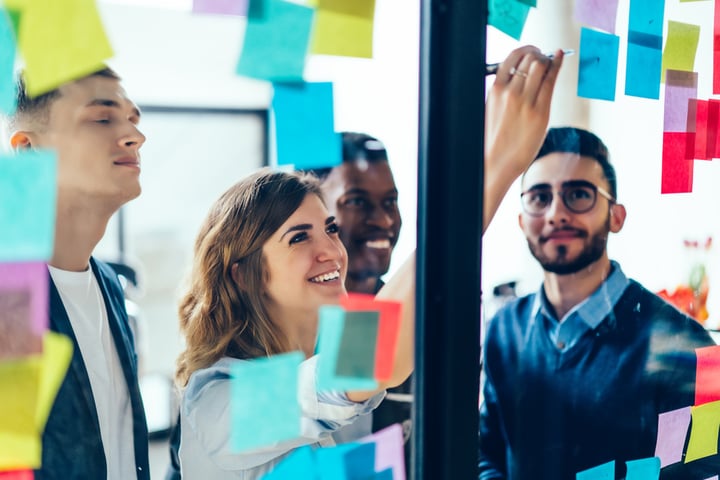 This week, we will build on last week's learning by tackling some important terms that we hear often in DEI conversations.
Read More