Leadership Lessons From The Schoolyard with Mike McDonald
In this episode, Bart welcomes Mike McDonald, Founder of the charity Recess Guardians and CEO of Activ8, a new play-based educational company helping kids and adults move and learn. Mike shares his experiences creating a school-based leadership charity that empowers youth to lead and teach younger kids, He explains why kids embrace leadership opportunities, different styles of leadership, how to use play to create engagement, and how what he learned inspired him to launch Activ8. A great conversation about kids but perfect for the young-at-heart leader.
Learn more about Recess Guardians and Activ8.
00:00 Show intro
01:00 Introducing Mike
01:20 Bart's disclosure
02:49 Recess Guardians
05:36 Are kids losing the ability to play?
06:34 Foundation of Recess Guardians
07:39 How does Recess Guardians actually work in the field?
09:20 How many kids impacted?
09:53 Problems in schools
10:24 Kids are bad sports
11:30 Sedentary behaviour on the playground
12:13 Common benefits of recess guardians
13:32 Mistakes aren't bad - they help you grow
15:29 Activ8 - where did the idea come from?
18:55 Why go from charity to for-profit?
20:47 What is the Activ8 experience like?
22:16 Difference between reaching adults vs kids?
22:53 Partnership with D2L
24:06 Building leadership skills in adults??
24:35 Different leadership styles
25:05 Spokesperson
25:22 Demonstrator
25:49 The Organizer
26:17 The Role Model
27:15 Transferring these styles to adults
27:22 Don't silo people into one style
28:58 Experiment with different styles of leadership
31:30 Recess time at the office?
33:15 Bart's takeaways
34:52 Where to find out more?
35:16 Thank yous
35:30 Outro
Related Posts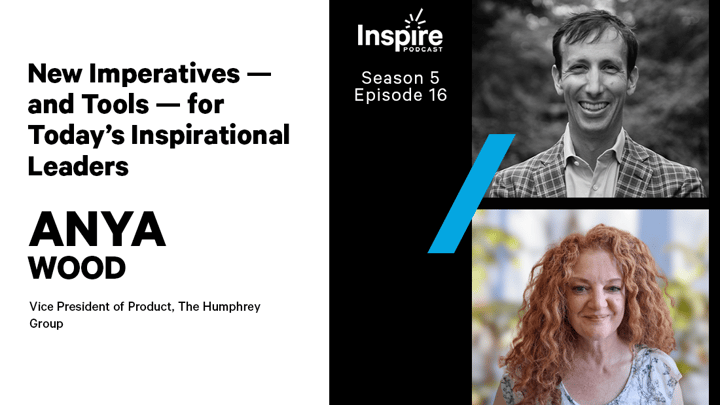 Unlock the future of leadership with insights from Anya Wood of The Humphrey Group. Explore AI-driven tools to meet modern leadership demands.
Read More